A few weeks ago we were delivered a rather shocking news from YG about finally revealing its new boy group. Being an avid YG stan myself, I know how papa YG's words are just sugar coated lies especially stuffs concerning his artists activities. So when a press conference was held and the news of the boy group debut was announced with supporting materials, we all know it's finally time. A survival show called WIN (Who Is Next) is made to document a battle between two teams (Team A and Team B) and the result is fully depended on the viewers' choice. Yang sajang doesn't have a say in the outcome. The winning team will debut with the stage name WINNER (how fitting) and the losing team.. well nobody knows.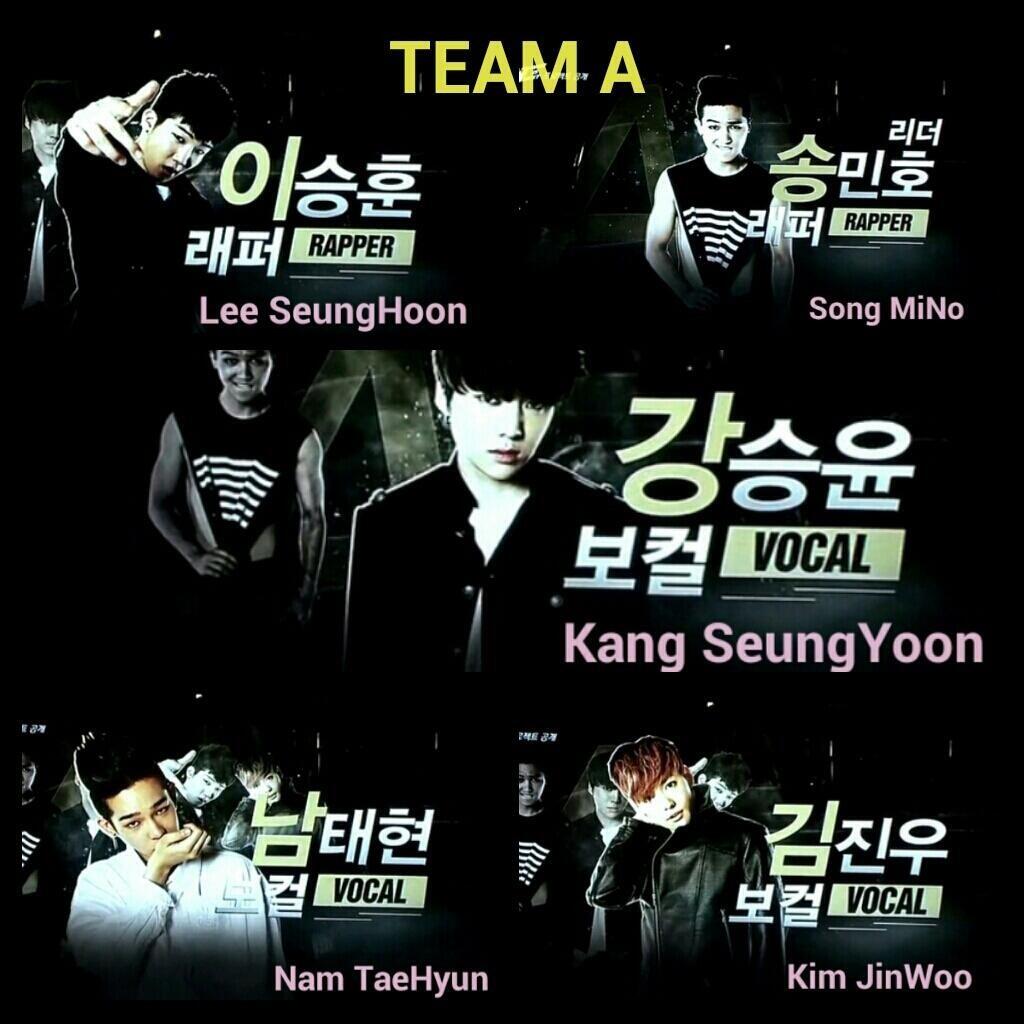 Team A consists of 5 members with an average age of 20 years old thus dubbed with the name 'hyung team'. Two familiar faces are in this team which is Kang Seung Yoon, former Superstar K2 contestant in 2010 who just debuted as a solo under YG few weeks ago. Next is Lee Seung Hoon, former Kpop Star contestant in 2012. I think he'll have the shortest trainee years among the rest since he only joined YG last year. The other three members are Song Minho (leader, rapper), Kim Jinwoo (vocal) and Nam Taehyun (vocal).
Team B consists of 6 members with an average age of 17 years old. After the press conference today, the most anticipated member seemed to be leader B.I (Hanbi) as he used to appear in MC Mong's song as a child rapper years ago. Papa YG also dubbed him "the next G-Dragon" and acknowledged by GD himself. The rest of the members are Kim Jinhwan (vocal), Bobby (rapper), Goo Junhoe (vocal), Kim Donghyuk (vocal) and Song Yoonhyung (vocal).
Since the program hasn't aired yet and I have only seen the boys through a short video, I can't say much. But having known Kang Seung Yoon years ago and being his fan waiting three years for his debut AND having supported Lee Seung Hoon since his first days in Kpop Stars, I can't help but being biased to Team A. Plus I have always preferred people older than me  (although 20 years in Korean age would be the same age as me but that's better than nothing) and I like the mature vibe they give off through their photos and press conference. BUT we'll see when the program starts.
I was worried about the biased situation that might happen as two of the members in Team A are already well known by public, on top of that Kang Seung Yoon have already debuted as a solo under YG just recently. I was thinking that Team A might have an upper hand but that is not the case since many people are giving a lot of attention to Team B according to what I see today. I see a lot of people wanting YG to just debut all of them but that would mean an 11 member group, which I do not want to be happening in YG. I am not fond of a large group members, let's just leave it at the hands of SM who seem to be managing SuJu and EXO well. Anyways, everybody is curious as to what will happen. We'll wait and see..
p/s what ever happened to the Kwon twins? I was excited to see them but they weren't in any of the team. Tskk my cutie pies will just remain as backdancers is that what you're trying to say sajangnimmmm